Luxscan wins the 2018 Export Award
Luxscan Technologies Sàrl, a member of the Weinig Group, has been awarded the 2018 Export Award by the Luxembourg Ministry of Economy. The coveted Export Award is awarded to medium-sized companies in the country that have distinguished themselves through international activities in the course of their business activities and have achieved outstanding results in the process.
Jury President Arsène Jacoby (President of the Export Agency ODL) presented the prize at a ceremony at the Luxembourg Ministry of Economy in the presence of His Royal Highness Prince Guillaume, Hereditary Grand Duke of Luxembourg and the Deputy Prime Minister and Minister of Economy Etienne Schneider, the Minister of Finance Pierre Gramegna and the President of the Chamber of Commerce and Industry, Michel Wurth.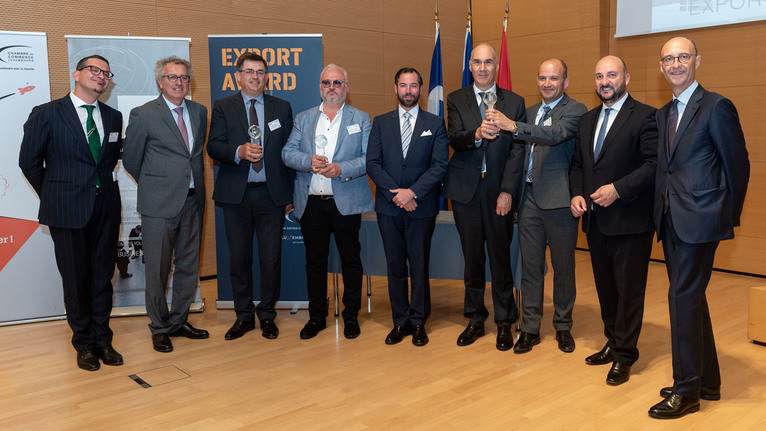 A great day for the two Luxscan Managing Directors Raphael Vogrig and Jean-Philippe Hildebrand (right with trophy): The ceremonial presentation of the 2018 Export Award at the Luxembourg Ministry of Economy. (Photo Copyright Chambre de Commerce Luxembourg)
Luxscan Managing Director Jean-Philippe Hildebrand accepted the trophy together with the second Managing Director and company founder Raphael Vogrig. A total of 21 Luxembourg companies from all sectors of the economy applied for the export award. "We are very proud of this award, which represents a particular appreciation of our extremely positive international development in recent years. It is great that the award coincides with Luxscan's 20th birthday, which we are celebrating this year", said Raphael Vogrig.
Luxscan started in Luxembourg in 1998 with the production of scanners for the optimization of cutting processes in solid wood processing. In 2007, the company became a member of the Weinig Group, the world's leading technology provider in solid wood and panel processing. Due to increasing demand, Luxscan expanded continuously, and in 2016, the company moved to its current headquarters in Foetz / Luxembourg.