Offsite Construction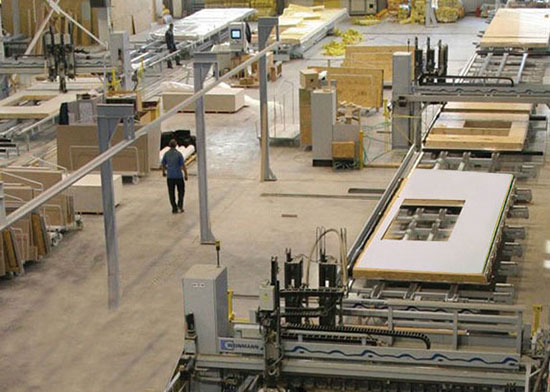 The construction industry stands at the brink of huge changes. The demands of cost control, risk minimisation, increasing density and supply side bottlenecks mean the status quo must change. Here at Jacks, we believe shifting construction off the building site into controlled factory environments is not just an opportunity for forward thinking constructors, but an inevitability.
Forget the poorly constructed 'Prefab' classrooms and houses of the past - this is a total misnomer. Instead, think of computerised machines producing accurately sized building elements under tightly controlled factory conditions, and those elements being shipped to site where a small crew puts them together at lightning speed.
This new paradigm is equally applicable to standard or unique designs, and will produce buildings of superior quality with a fraction of today's labour content. It will transform the construction of residential, commercial and industrial buildings alike.
---
In the residential area, closed or semi-closed timber frame panels form the basis of an extremely rapid building system. Imagine entire walls being shipped to site - not just the frames, but millimetre perfect wall panels up to 12 metres long comprising of insulation, services, gypsum board, cladding, and even joinery. Such a system can achieve a weathertight building envelope in less than a day on a prepared foundation, dry and ready for finishing trades to complete the interior.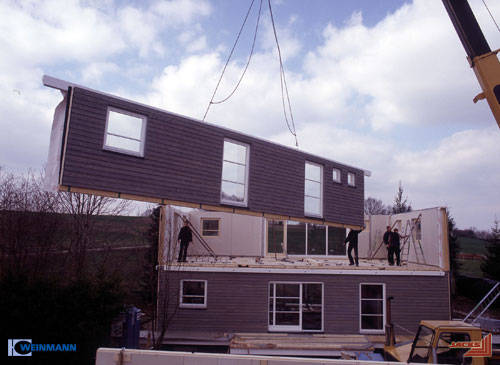 While all buildings can use this system and gain significant improvements in speed and quality compared to site building, markets where panelised timber frame are especially competitive are:
Low- to mid-rise apartments and townhouses
Medium to large developments of detached townhouses
Difficult, steep, or remote sites where access for traditional builds is impossible or expensive.
2-4 story residential developments
Schools, retirement villages, and light commercial developments
Hybrid building systems comprising of structural engineered wood products and infill timber frame panels.
---

Jacks primarily supplies panelisation solutions from our partners Weinmann, based in Germany. Production solutions exist from small, mostly manual operations to large, automated turnkey lines capable of over a thousand houses per year.
---
In the commercial building space, the building material of choice in the 21st century will be wood. Currently, these markets are almost totally dominated by steel and concrete. 7 – 10% of the world's CO2 emissions come from the concrete industry, and steel and aluminium are also huge emitters. In sharp contrast, buildings constructed from engineered wood products can start life in carbon credit.
Engineered wood is not a system that relies on its green credentials, however - it is strongly competitive. The largest advantage of engineered wood products is their speed on site - timber is around 20% of the weight of concrete, and faster shipping, handling, and placement of products can slash project timelines, delivering buildings for occupancy in record time.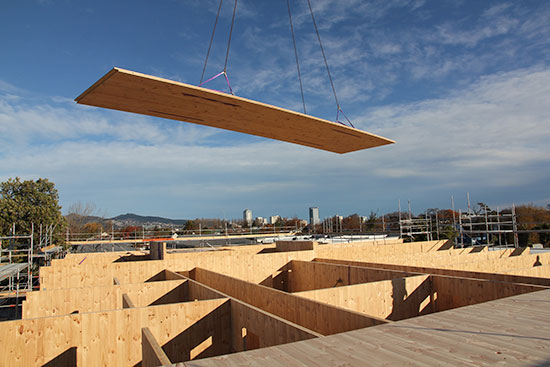 Broadly speaking, EWP are divided into two broad categories - panel products such as cross laminated timber (also known as CLT or XLam) and beam products such as Glulam and LVL.
CLT can be used for floor, wall, or roof elements in all types of buildings, but areas where it is known to be an especially competitive solution include:
Midrise apartments and townhouses from 2-10 storeys
Floor elements on steep sites or difficult land, enabling you to get out of the ground quickly
Hotels, hostels, student accommodation, hospitals, and aged care facilities - these buildings often enable a very efficient "honeycomb" structural solution through repeating floor plans
Midfloors and mezzanine floors for light industrial buildings
Shear walls in combination with other structural beam systems like Glulam or LVL.
Glulam and LVL are generally used as structural frame products for large buildings in a column and beam configuration. These advanced timber structures are notable for their seismic performance - and their good looks! There are several other applications for these beam products:
LVL is sometimes used as a substitute for solid lumber in timber framing where stiffness, stability and straightness are especially important.
Glulam can be pressed into a curved beam - combined with CNC machining capabilities, this can result in incredible unique structures and impressive clearspan spaces.
---
Jacks works with a range of suppliers as required for engineered wood products plants, including
Weinig
(including
Dimter
and
Grecon
) for processing feedstock,
Woodtech Fankhauser
for vacuum pressing technology,
Minda
for mechanical pressing and handling technology, and
Weinmann
for CNC machining solutions.
---
Change brings opportunity, and Jacks is already working with the early adopters at the cutting edge of this paradigm shift in construction methods. As an independent supplier with extensive experience in the New Zealand market we are able to tailor a solution to your specific production requirements. If you'd like to look past the status quo, let's talk!